Innovative New technology!

Evolve Tite Trim
Customized for your Body's Goals
Hands-Free Technology – Thermal Body Contouring
Reshape your Body and reverse skin laxity on the abdomen, arms, hips, and thighs and cellulite on all parts of your body
HOW IS EVOLVE DIFFERENT FOR OTHER TECHNOLOGIES?
Evolve Tite is designed specifically to reduce and tighten loose sagging skin. Multiple body areas can be treated simultaneously to slim and tighten various parts of your body at one time – with NO downtime!
HOW DOES EVOLVE TITE WORK?
Evolve Tite utilizes clinically proven radiofrequency technology to stimulate collagen. During your treatment you can expect a warming of your skin similar to a hot stone massage. As the radio-frequency penetrates dermal layers, you will notice a reduction in the folds of your skin leading to a smoother contour of the body. Texture will improve, even out and sagging skin will appear more toned!
A Call Button is provided so you can easily pause your treatment at any time and have my Nurse and staff make adjustments to ensure your comfort.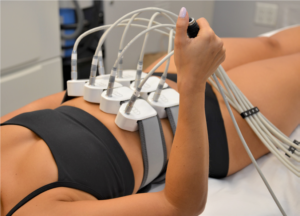 It is a safe and effective procedure that can be used on all skin types and skin tones. It is a quick and painless treatment that can be done during your lunchtime, allowing you to return to your normal activities immediately. You will notice redness and warmth in the treated area which will subside after a few hours.
Multiple Areas can be Treated Simultaneously
ABDOMEN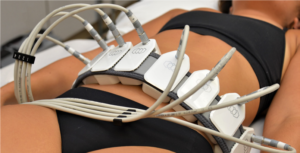 ARMS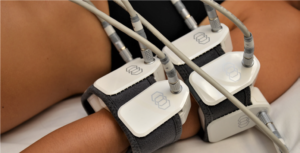 LEGS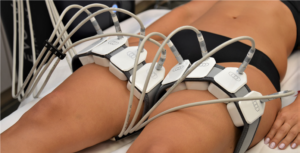 MULTIPLE AREAS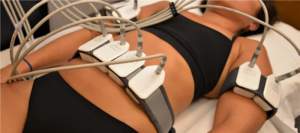 THE SCIENCE BEHIND EVOLVE TITE- HOW RF WORKS FOR SKIN TIGHTENING
Dermal aging due to degradation of collagen
Intrinsic and Extrinsic (Solar) Elastosis
Goal is to heat collagen (superficial and deep) to stimulate regeneration and neo-collagenesis