Skin Therapy and Maintenance
Just as we must maintain our cars and homes, we must maintain our skin and body, inside and out, to restore health and beauty!
MAINTENANCE MAXIMIZES HEALTH AND BEAUTY!
MAINTENANCE is 'inspiring" the skin and body, at any age, back to functioning as an energetic, youthful, well-oiled, beautiful machine. Maintenance includes your individually prescribed internals, nutritionals, skin products, which penetrate and have therapeutic concentration of the missing and needed raw materials for the cells, instruction on healthy, everything in moderation, you are what you eat diet, exercise and balancing stress. Essential skin maintenance is scientifically correct skin treatments, epi-blade exfoliation and medi-facials – therapeutic, not just feel good; peels that restore skin volume, that build not thin the skin and lasers that work. Science not commerce maintenance concomitantly reverses, rejuvenates and prevents, slowing down the ticking of the clock as much as scientifically and technologically possible. Dr. Hunter stays abreast and incorporates new science and technology that work.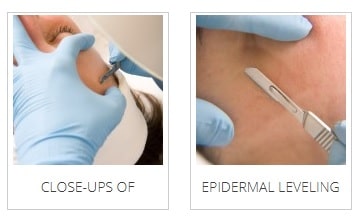 Epidermal leveling or Dermaplaning
is the most physiologically correct exfoliation technique, which was developed in Europe by skin physicians over many years. It is a safe, painless, in-office procedure, during which the skin is evenly and completely exfoliated, stimulated, cleaned and smoothed, with a scalpel blade, to medically remove dead skin, pre-cancerous cells and skin growths, pigment and vellous hair (this does NOT cause more or thicker hair growth). The procedure initiates a physiological cascade in the skin which stimulates optimal new cell and collagen growth, resulting in tighter, clarified, more detoxified skin and purging of skin damage and abnormal cells. There is no downtime and the results- glowing polished skin are immediate and increase over the next 6-8 weeks. To optimize new cell and collagen layer growth, Epidermal Leveling should be performed every 8-12 weeks. This method of exfoliation is preferred because unlike microdermabrasion, scrubs and all other methods, the skin is not damaged,abraded and wounded and can be leveled and stimulated more therapeutically and evenly over the entire surface anywhere on the body even thin, delicate skin areas. Epidermal leveling is especially the best method for damaged, thin, rosacea, skin.
---
MEDICAL THERAPEUTIC FACIALS & BODY TREATMENTS
Cleaning, exfoliating, repairing, revitalizing, clearing acne, pigmentation, hypersensitivity, decreasing damage, preventative, restoring acid mantle, delivering ingredients the skin is missing.
FACIALS & BODY TREATMENTS:
ACNE FACIAL
ROSACEA FACIAL
HYPERPIGMENTATION FACIAL
MELASMA
STRETCH MARKS
BROWN/AGE SPOTS
WRINKLES/LAXITY
THERAPEUTIC, PHYSICIAN STRENGTH PEELS
Why we use physiologically/chirally-correct peels? A physiologically correct peel regenerates the skin, making it tighter, smoother with fewer wrinkles, more youthfully thick and can remove discolorations, abnormal growths, decrease abnormal blood vessels and skin cancer risk and promote healthy clarity. The procedure can be used on other parts of the body to accomplish the same therapies…skin is skin, only thickness and blood flow differ from head to toe. CLICK HERE FOR MORE INFORMATION ON PEELS
How the Skin Therapy by Julia T. Hunter M.D. Peels are different? Traditional chemical peels typically consist of chemical solutions applied to the skin to wound and destroy skin layers and cells that eventually peel off. This painful, old technology process destroys healthy tissue, increases free radical production massively due to the inflammation produced, thus thinning the essential upper layers of the skin and number of melanocytes that protect the skin, forever, and increases the work of the skin to heal itself without providing the skin the building blocks it needs to repair itself. The Skin Therapy chirally correct, non-traumatic peels turn back the clock by stimulating healthy changes via collagen, fibroblast, melanocyte and hyaluronic acid production, which enhances skin's health, lifting and tightness, youthfulness, plumpness and appearance resulting in a beautiful, renewed, healthier organ.
The importance of chirally correct… The entire body is chiral so chirally correct chemical peels have physiologically correct ingredients, less downtime and fewer side effects and better results than other chemical peels. No anesthesia is required for chirally correct chemical peels and they are safe enough to be repeated bi-monthly, to continuously enhance the restoration and rejuvenation.
---
MICROCURRENT TREATMENTS

(Non-Surgical Face-lifting and Tightening)
INSTANTLY FIRMING and LIFTING the FACE, EYES and NECK.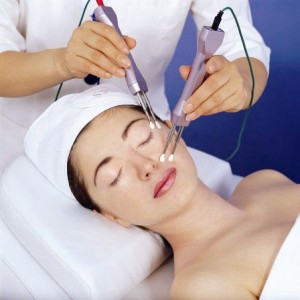 MICROCURRENT is the missing piece because it is the ONLY therapy that LIFTS and TIGHTENS and VOLUMIZES the MUSCLES of the face and neck, which the skin is attached to, and which gravity pulls down equally just as on your body.
The Microcurrent technology is a SUPERLATIVE form of facial rejuvenation – treating the muscles, strengthening, tightening, and lifting reducing lines on the face, forehead, eyes and neck. This unique treatment focuses on toning the facial muscles and increasing the skin's circulation, replenishing moisture and hydrating the epidermis giving a more youthful and healthy glow to the skin, and importantly increasing youthful skin metabolism, which pulls in even more so your therapeutic Skin Therapy products to penetrate more deeply and completely for greater therapy AND better results. The eye treatments focus specifically on the muscles surrounding the eye that affect the elasticity, to lift the eye contour resulting in a lessening of the sagging appearance, dark circles and puffiness.
MICROCURRENT weight lifts the facial muscles just as you SHOULD do for your body muscles, so you IMMEDIATELY look younger after you have a treatment done AND over time you RE-volumize and lift and tighten those muscles, as when you were younger, which also LIFTS and TIGHTENS the skin along with it. THIS translates to less wrinkles and crinkles of the NECK and face and forehead and eyelids! NOT even surgery lifts and tightens those muscles – ONLY MICROCURRENT!
NOTHING is a miracle, but before an event or big date it IS astounding what visible effects it immediately gives AND over time the results persist and compound, due to building muscle over time just as with weightlifting, which is why I have ALWAYS been a fan! Remember…a series of treatments have a cumulative effect, which can drastically reduce fine lines and wrinkles. The more microcurrent you do the better, and it can even help to reduce the ASSYMETRY of your face, which we all develop as we go down the path of life.
With Microcurrent technology you see immediate results! I compare it to going to the gym – the more you exercise – the more that the facial muscles get tighter, plumper/volumized and lift and stay lifted as the skin is attached to the muscles as well. Microcurrent is the PERFECT solution just before a big date or event when you really want your skin to be tighter, lifted, look plumper and more youthful!
---
EYELASH GROWTH AND TINTING, EYEBROW GROWTH AND SHAPING AND NON-TOXIC MAKE-UP
Available to enhance the above procedures and treatments. Always providing the best tool for the job, we offer a NON–toxic, NON–inflammatory makeup. Why treat and pamper your skin with healthy products and treatments to have it only become irritated by chemically harmful makeup? Dr. Hunter and the team work diligently to find healthy makeup that does not inflame your skin, and thwart the beauty, restoration and disease prevention.

LATISSE® treats eyelashes by increasing their growth, including length, thickness, and darkness.