Step 2 – Daily Evening Treatment
HOW TO START & ADVANCE SKIN THERAPY PRODUCTS
STEP TWO – Daily Evening Skin Therapy
After 1-2 weeks these products are integrated into your Daily Evening Skin Therapy. ALL OUR PRODUCTS ARE SYNERGISTIC AND MOST CAN BE MIXED TOGETHER IN YOUR PALM AND APPLIED AT ONE TIME AFTER CLEANSING, to accelerate best visible results, repair, rejuvenate and restore.
MAXIMAL STRENGTH VITAMIN A PLUS – INCOMPARABLE  FORMULATION, Pharmaceutical Retinoic results NON-toxically, with synergistic ingredients, in superior delivery system, for better, deeper penetration results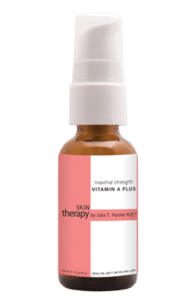 State-of-the Science MAXIMALLY OPTIMIZING, PHYSICIAN-strength RESULTS, MULTI-action Vitamin A encapsulated, STABILIZED formulation competes with highest strength pharmaceutical Retinoic results, yet NON-TOXICALLY AND UNIQUELY layering PHYSICIAN-strength synergistic ingredients creating the MOST potent therapy WITHOUT a prescription.
Provides optimal, visible results – lifting, tightening, youthfully volumizing, anti-aging via personifying production of collagen, elastin, fibroblasts and deep dermis components.
Niacinamide topically helps increase collagen and cell component production, relieve itching, irritation, oiliness, appearance of blemishes, eczema, psoriasis, seborrhea, abnormal pigmentation, helps prevent the risk of skin cancers.
L-Glutathione – MASTER crucial, antioxidant.
Indian Ginseng helps decrease skin irritation, collagenases, maintain skin elasticity and proteins, superlative anti-oxidant.
Myrtle extract – a cell regenerator to support increased tissue longevity, help reduce and combat first signs of aging.
Click here to review and print instructions on products use and ingredient list
MAXIMAL STRENGTH PEEL – CORRECT, NON-inflammatory, Physician-strength Home PEEL Therapy for Blemishes, Scarring, Wrinkles, Lines, Pigment, Growths, Turning Back & Slowing Down the clock INCREASINGLY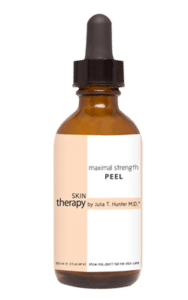 Scientifically CORRECT exfoliation results in tighter, luminous skin with less wrinkles, cellulite, lines; clock slowing and reversing. Physician-strength blemish, scarring, pore, pigment, growth, clearing and volumizing, clarity, elasticity optimizing.
No downtime alternative to ablative, fractionated, pixilated lasers, all other chemical peels. It helps prevent the formation of and address blemishes, blackheads, whiteheads, undesired pigment and growths.
Scientifically correct, exfoliating, synergistic L-Lactic, Mandelic, Malic acids with Pumpkin Ferment help suppress, brighten and even pigmentation, blemishes, scarring, wrinkles, risk of abnormal growths, restorative and rejuvenating.
Niacinamide, Phytic Acid, D-Beta Carotene, antioxidants, polyphenol rich fruit extracts to help maximally treat, repair, correct, anti-age.
Anti-glycating, free radical quenching, super antioxidant Carnosine to help prevent loss of and REPAIR elasticity, wrinkling.
Click here to review and print instructions on products use and ingredient list