Step 1 – Daily Evening Treatment
HOW TO START & ADVANCE SKIN THERAPY PRODUCTS
STEP ONE – Daily Evening Skin Therapy
ALL OUR PRODUCTS ARE SYNERGISTIC AND MOST CAN BE MIXED TOGETHER IN YOUR PALM AND APPLIED AT ONE TIME AFTER CLEANSING, to accelerate best visible results, repair, rejuvenate and restore.
MAXIMAL NIGHT REGENERATION contains the correct amounts of the array of raw materials that your skin & stem cells require during sleep, when it best builds and repairs.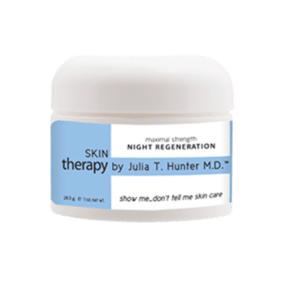 Essential ingredients to help restructure, restore skin barrier liquid crystal youthful emollience.
Helps visibly increase moisture, oxygen content and respiration. These synergistic, powerful ingredients, correct tocotrienols, carotenoids result in remarkably visible clarity, revitalize, prevention.
The highest correct ratio of ingredients to mimic collagen, help restore, repair oily, irritated, AND dry mature skin.
Potent antioxidants for firming, anti-aging, clearing, to MAXIMALLY help neutralize free radicals, protect mitochondria and avoid wrinkling.
Buddleja natural plant stem cells help provide broad spectrum protection from photodamage, oxidative stress, irritation. SUPERLATIVE for blemishes, bacteria and sebum over-production, seborrhea, fungistatic helps protect collagen, and moisturizes without oil, cell nutritive.
Click here to review and print instructions on products use and ingredient list
MAXIMAL STRENGTH EXFOLIATING REPAIR – CORRECTING, CLARIFYING, ANTI-AGING,  MASK –Blemish, Wrinkle, Rosacea, Pigmentation, Pore, Skin Conditions Exfoliating Repair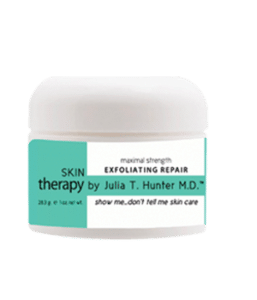 The most CORRECT, non-inflammatory, necessary and physician strength to help clear: Blemishes, blackheads, comedones, pustules, inflammation
Reduce discoloration and pigmentation
Repair/improve fine lines, wrinkles, skin dullness, scarring, redness
Enlarged Pores, laxity, hypersensitivity, rosacea, melasma
Ideal for all skin types and every skin of color
These intensified ingredients have the density to help speed symptom resolution and infuse the potent array of physiological skin factors, help assure, along with the other synergistic SKIN THERAPY products and recommended supplement therapies – best prevention, anti-aging, rejuvenation, repairing, correcting and restoration of healthy, youthful functioning and appearing skin of the entire body.
Click here to review and print instructions on products use and ingredient list
MAXIMAL STRENGTH INCOMPARABLE EMU DERMYL – MORNING & EVENING TREATMENT Moisturizing, Rashes, Wrinkles, Pigment, Stretch Mark, Scar Therapy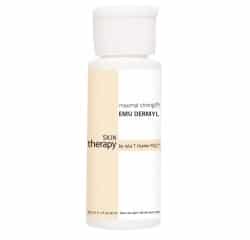 NEW! UNIQUE, MAXIMAL Strength Emu/Cloudberry oil combination THERAPY, with Neodermyl® to deliver DEEPEST penetration to skin cells for OPTIMALLY re-vitalized  rejuvenation, firmness, volume, moisture, health replenishment.
The Aborigines taught and my medical practice confirms Emu Oil's superlative chemistry vs. all else to penetrate into the skin with Incomparable moisturizing, skin soothing, calming and restoring. All EMU OIL is in NO way equal. I choose THIS Emu Oil specifically for its unequalled results on:
Dry, damaged skin and lips.
Soothe and relieve the symptoms of rosacea, eczema, psoriasis, shingles, rashes, and sensitive, irritated skin.
Reduce the appearance of fine lines particularly around the eyes, mouth, neck and to help prevent aging.
Promote healing and reduce symptoms of skin conditions and damage including abnormal brown pigmentation.
Help reduce pain, irritation, redness and blistering from shingles.
Scar and stretch mark minimizing.
Resolving burns and sunburn, cuts, abrasions.
MAXIMALLY moisturizing the entire body's skin, yet no oil remains on the surface of the skin only a more youthful and healthy, volumized, dewy and restored skin.
Click here to review and print instructions on products use and ingredient list Click here for more information on Emu Dermyl