Step 2– Daily Morning Treatment
HOW TO START & ADVANCE SKIN THERAPY PRODUCTS
STEP TWO – DAILY MORNING TREATMENT
After 1-2 weeks these products are integrated into your Daily Morning Skin Therapy. ALL OUR PRODUCTS ARE SYNERGISTIC AND MOST CAN BE MIXED TOGETHER IN YOUR PALM AND APPLIED AT ONE TIME AFTER CLEANSING, to accelerate best visible results, repair, rejuvenate and restore.
MAXIMAL VITAMIN C PLUS –  Physician-strength anti-oxidants for collagen, skin cell renewal, minimizing blemishes, rosacea, lines, pigment, aging.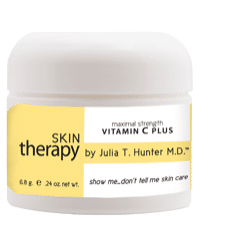 Collagen stimulation, skin cell and component renewal (youthful tightening, lifting, volumizing, clarity).
Decrease appearance of: brown pigment, pore size, symptoms of rosacea, sensitive and red skin, blemishes and their scarring, undesired veins and growths, ingrown beard hair, abnormal skin cell exfoliation.
Chiral 95% L-ascorbic acid with strengthening synergistic vitamins C, E, B, A, amino acids, minerals and omegas to help quickly and maximally relieve symptoms of inflammation and generate maximal healthy cell renewal production.
Most maximal anti-oxidant formulation, chirally-correct power, fortified with L-Glutathione (the master anti-oxidant) to help defend, protect, promote health, reverse appearance of aging, degeneration and risk of disease.
Click here to review and print instructions on products use and ingredient list
ULTIMATE STRENGTH CELL OPTIMIZER – Unprecedented results, State of the Science ingredients, energizing, synergizing, helps in accelerating youthful cell stimulation, telomere, DNA, mitochondria revitalization.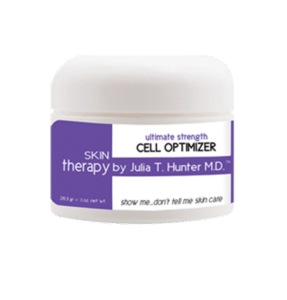 Clinically proven, state of TODAY'S gold standard skin science, ultimate quality, quantity, and formulation of cutting edge ingredients, providing maximal, UNPRECEDENTED show me… don't tell me visible results.
Optimizes quickly and very visibly the synergistic, essential ingredients in each of the other Skin Therapy products with no redundancy.
Lifting/tightening, volumizing, wrinkle/line minimizing collagen synthesis.
Skin microcirculation repair, energizers, rejuvenators, DNA, mitochondria health, revitalization in every skin type and age. for youthful skin color and health.
Previously unavailable skin stem cell, telomeres, fibroblasts, cell to cell communication, DNA/mitochondria cytostimulation and preservation. Skin cell immune defense and balancing.
Clarity/luminosity, surface beauty, deeply soothing, moisturizing, repairing even the most irritated skin.
Scar/stretch mark, enlarged pore repair.
Infrared, UV, inflammation protecting.
Brown pigment/spot, skin cell damage thwarting and reducing.
Click here to review and print instructions on products use and ingredient list
MAXIMAL STRENGTH CALM AND REPAIR – STEP ONE & STEP TWO MORNING USE – multi-layered defense & repair for broad spectrum SPF 30, environmental & medical skin conditions therapy, for skin of EVERY color and type.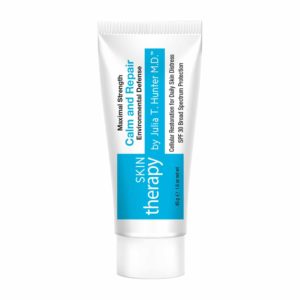 Maximal Strength Defense and Repair for skin conditions therapy and broad spectrum SPF 30 for every skin type AND color – without skin graying. Healthy, therapeutic sunscreen and unprecedented use of organic, sustainable essential ingredients.
Maximal UV SPF 30 protection and REAL-TIME broad spectrum damage & skin conditions helping to repair to the DNA level
Multi-layered defense and repair system for EVERY skin type.
It UNIQUELY does not turn darkly pigmented skin gray.
Helps repair free radical, mitochondrial damage from UV, stress, foods, toxins, infective agents, aging, falling hormone levels, blemishes.
Contains Zinc Oxide for broad spectrum UVA/B/IR protection and repair. KNOWN to help calm sunburn, burned, irritated, and blemished skin.
Red Algae Extract, when exposed to extreme UV radiation, absorbs and produces one of THE most powerful radiation shielding substances in nature.
Ergothioneine, an antioxidant, helps protect mitochondria, and oxidative damage, optimize oxygen efficiency and cellular energy, and helps minimize inflammation from external and internal damage.
Click here to review and print instructions on products use and ingredient list